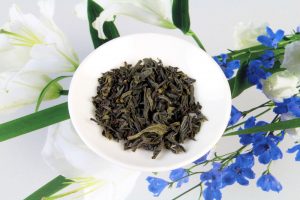 The Benifuuki cultivar is usually found as either a green tea or black tea.
I hadn't tasted it as an oolong until I tried this one from Kanes Tea.
Besides being organic, it's also from the first flush.
A Japanese green tea made with Benifuuki tends to me more astringent than other cultivars. It tastes better as a black tea, in my opinion.
I'm very curious about what this tea will taste like.
Drinking a Japanese oolong
The tea leaves have a sweet aroma. Not very intense, but definitely enticing.
I've seen this type of tea leaves in Japanese oolongs before. Two times, if I'm not mistaken.
They have a rough texture, a loose rolling, and a pale green color.
This tea leaves are also a little smaller than those of similar oolongs that I've reviewed.
Here are my brewing parameters: 120 ml (4 oz) of boiling water, 4 grams of tea leaves, and an infusion time of 30 seconds.
As I smelled the wet tea leaves, an aroma of cooked vegetables came to mind.
The aroma is also sweet, perhaps with fruity notes.
Not as sweet as some Chinese or Taiwanese oolongs, but enjoyable nevertheless.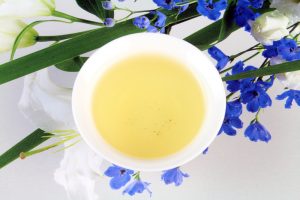 The liquor has a clear yellow color.
But of course, tea is for drinking. Aroma and appearance aren't enough.
Once I tried it, I felt a mellow flavor with some sweetness.
Not much body. In addition, astringency and bitterness are basically unnoticeable.
The second infusion, made with the same parameters, resulted in a tea very similar to the first one.
At the third infusion, I felt that astringency had started to show up. But it was still light.
It felt more refreshing this time.
The fourth infusion had a lighter color for the liquor. But the taste still held a decent intensity to it.
And finally, I made the fifth infusion and found out that it still wasn't bitter nor too astringent.
However, the flavor was much lighter. Thus I stopped infusing this tea.
It was a good experience. I was expecting an astringent tea, but it wasn't the case.
Here's the product page, in case that you want to taste it too.