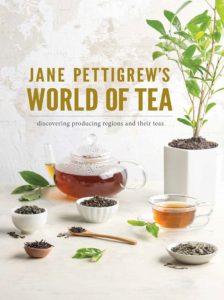 I bought this book at the World Tea Expo.
Jane Pettigrew had her own booth where she was promoting her book.
This is the biggest and heaviest tea book that I own. It weights 6 pounds!
There are seven chapters in total.
The first chapter is an introduction to tea in general, and the other six chapters are about each continent.
This is the most comprehensive book in terms of tea producing regions that I've read so far.
It lists each tea producing country, there are more than sixty.
The pictures are gorgeous, they made me dream about being in those tea fields.
However, there are very few pictures about the finished teas themselves, although they have their own section in each chapter.
Each tea producing regions is described in terms of tea history, main tea districts, production statistics, main varietals, and types of tea made.
There are also tasting notes of the predominant flavors of the teas.
I learned many things in this book, it was a good read.
It took me several days to finish it because it has more than 400 pages.
Here's the link to the book in Amazon.