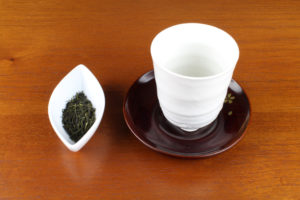 I learned about this from Oscar Brekell's book: Magic of Japanese Tea.
He has a method in case that one wants to drink a sencha in boiling water (as opposed to hot water). It could be useful for a very cold day.
Normally, if you prepare a sencha at a high temperature, it tends to become too bitter and astringent.
So Oscar's method recommends to halve the amount of tea leaves, and increase the water volume and time of infusion.
This means 2 grams of secha, 100 ml of boiling water and 2 minutes of infusion time. Compare this to the standard of sencha: 4 grams, 60 ml (2 oz) of water at 80 ºC (176 ºF) and 1 minute.
I decided to give it a try, but used 120 ml (4 oz) instead. This makes more sense because that's the measurement for bancha, and a yunomi would have that capacity.
Besides, it is easier to remember because it's double the volume of a teacup for sencha.
Let's prepare a sencha in boiling water
I'm using a good quality sencha, and I will prepare it in both ways.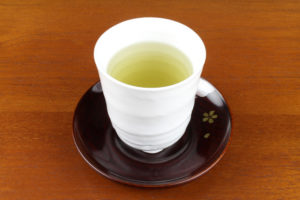 With Oscar's method, I get a full yunomi of sencha that has a similar color to the one made with less water.
The taste is light, but at least it's not bitter. It's only slightly astringent, so I guess Oscar was right.
I also felt that the umami flavor wasn't so intense, and the sweetness was diminished as well.
It feels very similar to a bancha.
After tasting the same sencha prepared in 60 ml of hot water, I could tell that it has a better taste.
First of all, there's more umami and sweetness. The aftertaste is way longer.
Of course, this way it isn't bitter nor astringent.
I decided to go ahead and make a comparison of the second infusion for each. I used the same parameters.
The second infusion of the sencha in boiling water is very light and flat. But at least it isn't bitter.
I won't even bother making a third infusion, using so much water takes out most of the flavor in the first infusion.
Concluding thoughts
While preparing sencha in boiling water with Oscar's method works, it's not as good as when it's made in hot water.
Everybody is free to prepare tea as they prefer. But in my opinion this method has a good chance of wasting a perfectly good sencha.
Nevertheless, I had fun with this tea tasting.
You can give it a try on a very cold day. It's an interesting experiment.