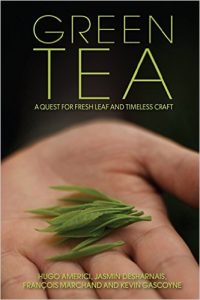 I bought this book at the World Tea Expo. Kevin Gascoyne, one of the authors, was there and he signed it for me 🙂
This book was originally published in French, and the authors are also the founders of the Camellia Sinensis tea house: Hugo Americi, Jasmin Desharnais, François Marchand and Kevin Gascoyne.
Basically, the book lets the reader get a grasp of the world of green tea.
The first thing that came to my mind was that the photography is beautiful. It adds a lot of value to the book.
After an introductory chapter it centers on China and then Japan, while also dedicating a few pages to Vietnam and India.
The topics include some types of tea, pottery, and short interviews with the tea producers.
I found it easy to read, I don't think I spent more than 2 hours before finishing it. The content is varied and interesting.
Conclusion: A good book for both beginners and advanced tea lovers, especially for those that are fans of green tea.
Here's the link in case that you want to purchase it through Amazon.