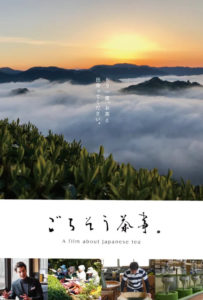 I'll translate the title, Gochisochaji (ごちそう茶事) as "delicious tea gathering".
The producer, Takatsu Makoto, is a fellow tea lover that is deeply involved in promoting tea.
The documentary attempts to spark the viewer's interest in Japanese tea.
I guess that it's mostly for the public in general, but as a Japanese tea enthusiast I also enjoyed it very much.
Among the tea personalities that make an appearance we have Oscar Brekell and Maeda Fumio.
Regarding tea producing regions, I saw Shizuoka, Kyoto, Kagoshima, and Miyazaki.
Trailer
You can either rent it or buy it on Vimeo. It's almost an hour long.
The content is pretty straightforward and easy to understand.
It starts by showing the tea fields and explaining about harvesting.
There's also an interesting scene showing a master of temomicha (hand rolled tea).
Then come the parts of processing, refining and blending.
Once the viewer grasps the basics of how tea is made, then there's the opportunity to see it being served at a tea house.
After a short summary of the challenges that the tea industry is facing, the documentary show what the future of Japanese tea could be.
This includes single origin, single cultivar tea, new styles of Japanese tea, and modern tea pairing at restaurants.
I hope that many people can see this documentary.