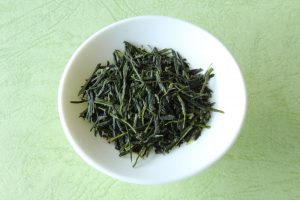 Last year when I met the famous master tea blender Fumio Maeda, he gave me this sample.
I had tried one of his previous blends, and it was excellent.
That's why I was looking forward to this review.
To tell you the truth, I don't remember what the regions for the blend are. The package has nothing written on it.
But I guess that it doesn't really matter where each individual tea of the blend comes from. What matters is that Mr. Maeda made it, and he is known for making some of the best blends.
Indulging in a superior green tea blend
Today's climate was odd. A strong sunlight followed by shadow from many clouds.
That meant that I would have a hard time taking pictures for this tea. Not to mention that I had been very busy with a lot of work.
Ayway, this sample came in a vacuum-sealed pack. I like that because it keeps the tea in top condition.
Time for my favorite part of a tea review: smell the tea leaves.
It felt very fresh, with the usual creamy and sweet aroma of high grade Japanese green tea. I'm not sure if I'm describing it correctly, but if feels more creamy than sweet.
I could end the post right here and conclude that it's a great green tea 🙂
Now that I took some tea leaves out of the packet for inspection, I see why it smelled so good.
The leaves have a dark and shiny green color. They are thin, and not that broken for a fukamushi sencha.
For this infusion, the parameters where as follows: 3 grams of leaves, 60 ml of water at 80 °C (176 °F), and 40 seconds of steeping time.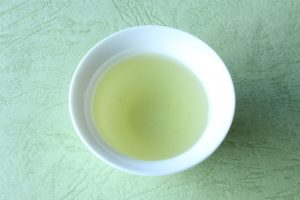 I liked the color of the liquor. Green with some sediment.
The wet leaf aroma felt very marine and vegetal. A good seaweed fragrance with a light sweetness.
Now I can finally taste it.
Whatever stress and worries I had today are gone. It's a refreshing tea, with a good body because of the high umami flavor.
It was like drinking a concentrated shincha but with no traces of astringency nor bitterness.
The aftertaste is slightly sweet and long lasting.
Now let's go ahead and make the second infusion.
I used the same 80 °C with 30 seconds of brewing time.
The color became a little darker, but still felt no astringency nor bitterness.
I liked this infusion, it felt a bit sweeter for some reason.
But why stop here? Let's do a third infusion.
Boiling water for 15 seconds. This time it has some astringency and it's slightly bitter, but enjoyable.
The delicate and sweet aftertaste remains.
The last infusion was again with boiling water for a few seconds. It was good, but not as much as the other ones.
As always, tea master Maeda made an excellent green tea blend.