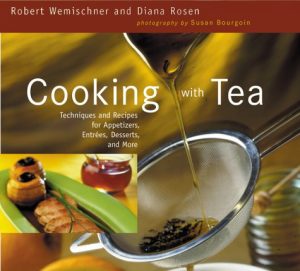 This tea book by Robert Wemischner and Diana Rosen was published in the year 2000, but the content is still relevant today.
A few weeks ago I interviewed Robert and we talked about tea and cooking. In case you haven't listened to it yet, click here for the podcast.
In the first part of the book we have the usual tea basics, and most importantly, the essential techniques of cooking with tea. These include infusing, braising, smoking, etc.
For the main part of the book, there are many recipes. Each comes with a beautiful photograph, and as far as I can tell they aren't difficult to do.
At the end, there's a section on pairing teas with food and also some examples of seasonal menus.
I find this book to be very useful, although I'm not a good cook. The first recipe I tried came out delicious, and I'm already planning to cook something special for December.
While reading the recipes, one can see the potential for using a great variety of teas in different dishes. I definitely see gyokuro being used in novel ways because of it's brothy characteristic.
One thing that caught my attention is that matcha isn't included as an ingredient. I guess it wasn't as popular back then.
If tea and cooking are two of your passions, you'll surely like this book. Here's the link to its page in Amazon.