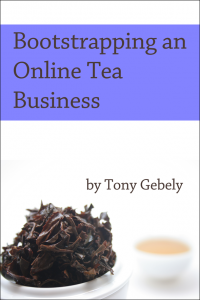 Do you want to be the next Teavana?
When I first saw this ebook I felt very curious, so I decided to buy it. All tea enthusiasts have probably dreamed at least once of owning their own tea-related business.
I've sometimes thought about opening an online tea store, but haven't really decided yet. I'd like to keep blogging for now, it's what I enjoy the most.
About the ebook
The author of Bootstrapping an Online Tea Business is Tony Gebely, who writes at www.worldoftea.org and has traveled through many tea producing regions.
Tony has firsthand experience with the topic, since he founded the Chicago Tea Garden, an online tea store. Unfortunately, he closed his company on June 2012 because his career as a digital marketer had taken off, and he didn't have the time to invest in both.
The ebook consists of 9 chapters, not too long. It's very easy to read, because Tony writes in a straightaway manner and gives practical info on every chapter.
I think that he could have "spiced things up" by telling more of his personal experience along the way. As a reader I always enjoy a good story.
I wanted to know more about his first steps in the online tea business, and how the business was doing when he decided to close it. It's like he had assumed that the reader knew all about his company before reading the ebook. He rushes into the practical stuff, although it's nevertheless useful.
Content
This ebook first explains the pros and cons of running a tea business, gives some legal advice, and also shows you the technological aspects of how to build your online store. Of course, you don't have to code it all yourself, there are tools for every budget.
Next, tony talks about the different types of customers, the categories of tea that you can sell (and its effects on demand vs competition), how to start sourcing the teas, and setting prices. This topics where the most valuable, in my opinion.
Finally, he includes tips about taking the product's picture, writing the description, and also about packaging. The last chapter is dedicated to the marketing aspect, which as we all know is crucial for any business.
Overall, it's a good ebook
You'll find that this ebook has relevant and actionable information, and the price is quite accessible. I would definitely recommend that you buy it if you want to open an online tea store,  particularly if you're an absolute beginner.
By the way, Tony Gebely is currently writing his next book about tea. I'll be ready to interview him right before the book comes out :-).
You can buy this ebook through Amazon. Please use this link and I'll get a small commission (it doesn't cost you more). Thanks for your support, and don't forget to subscribe to the newsletter to get free updates!