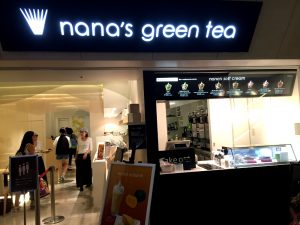 The last few days that I was in Tokyo I had the chance to visit Nana's Green Tea.
This green tea cafe chain has been called the Japanese Starbucks.
They have many locations inside Japan, plus some in other countries like Singapore, Malaysia and even the United States.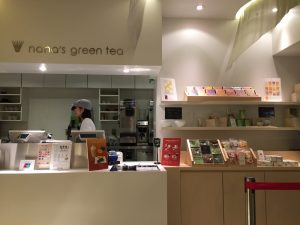 Basically, it's a place where most of the menu revolves around Japanese green tea. More specifically, matcha.
You can order many beverages and sweets made with tea, as well as Japanese food.
Here's the link to their drink menu, which has pictures.
I went to their store in Ikspiari shopping mall, which is next to Tokyo Disneyland. Well, actually this isn't Tokyo, it's Chiba prefecture.
I managed to slip in this tea related plan because my wife wanted to go to Disneyland and Disney Sea 🙂
Eating at a green tea cafe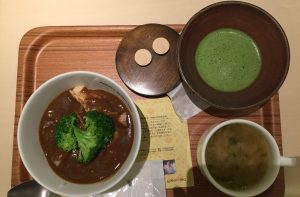 I ordered a Japanese curry, a miso soup and a matcha. We were hungry at that time.
I'm sorry for the lousy pictures, I took these with my cell phone because my camera had ran out of battery.
The place seemed trendy and somewhat elegant. Almost all of the customers were women, so I felt a bit out of place.
I liked the matcha, it was of good quality and expertly prepared. The food was delicious too.
We also ordered a matcha ice cream, they had many different ones in the menu. It was quite good.
Have I told you before that I have a sweet tooth? I love desserts, but I don't eat them too often because otherwise I would gain a lot of weight 🙂
I want to visit Nana's green tea again and again to try their different green tea sweets!
Hopefully they will expand throughout the world just like Starbucks did.
Then I can have an easier access to a green tea cafe.