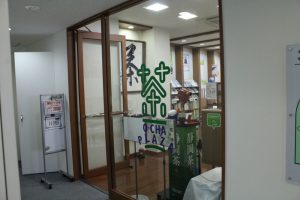 I first heard about the World Green Tea Association (世界緑茶協会) at the World Tea Expo.
The manager, Hiroshi Nishikawa, learned of my trip to Japan because of this blog's newsletter.
He invited me to visit the office, and I wasn't going to let this opportunity pass.
That's how my tea trip to Shizuoka prefecture came to be.
About the World Green Tea Association
Located in Shizuoka prefecture, number 1 in Japan in terms of tea production,  the World Green Tea Association was established by the prefecture's government with the aim deepening the appreciation for green tea across the globe.
These are some of the activities that they do:
Seminars, conferences and workshops about green tea
Publishing the Ryokucha Tsushin (緑茶通信) magazine
Holding various tea events for the public at O-Cha Plaza
Operating the O-Cha Net green tea website
Holding the International Green Tea Competition (世界緑茶コンテスト) for new green tea products
Holding the O-Cha Pioneer Award (O-CHAパイオニア顕彰), to make recognition to contributors of green tea promotion
Organizing the World O-CHA Festival (世界お茶まつり)
Visiting O-Cha Plaza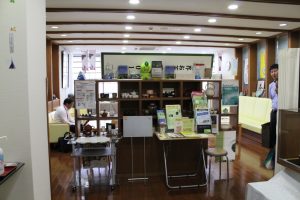 O-Cha Plaza is very close to the JR Shizuoka Station in Shizuoka city.
Once you arrive to the station, take the south exit.
Then go to the Mizu no Mori building, 3rd floor. Here's the link to the Google map.
It's open to the public, but you must make a reservation before going. Most of the events are free.
You can contact them by phone, or at this email: tea@o-cha.net
The most common activity for foreigners would be a tea tasting, where you can learn about green tea from Shizuoka and how to prepare it.
I did just that.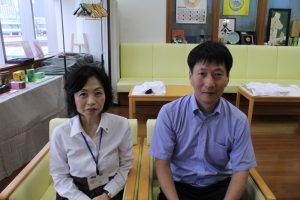 Once my wife and I arrived, we were greeted by Mrs. Matsushima, a Japanese tea instructor, and Mr. Nishikawa.
I couldn't have asked for better hosts. What a good way to taste my first green tea in Shizuoka prefecture.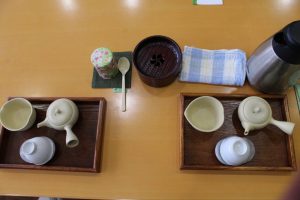 We had our own tea set for the activity. I loved the white kyusu and the matching yuzamashi.
First we received a short presentation on the tea producing regions of Shizuoka prefecture, and then we tried preparing our own tea.
The tea was delicious, and the experience was beautiful.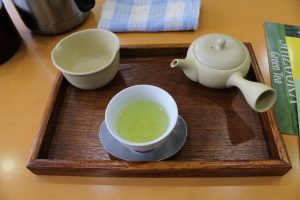 I don't remember which region of Shizuoka the sencha we prepared came from.
But I do recall that it was high in umami, I very much liked it.
The World Green Tea Association also gave me a certificate as a special member. I'm very honored, and will work through the blog to spread the word about Japanese green tea.
Mr. Nishikawa then invited me to a tea factory tour. I will tell you more about that in the next post.