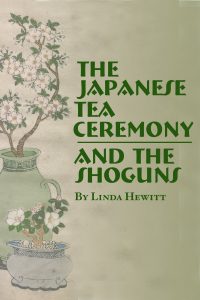 As a tea lover, I find books about tea to be very interesting, especially if the topic of Japan is involved.
Imagine my happiness when I found a book that explains the relationship of the tea ceremony with the political history of Japan between the twelfth and twentieth centuries!
This book by Linda Hewitt is structured in chronological order, so that in each step of Japan's history we see how tea (and especially the Japanese tea ceremony) played an important role.
From the beginning of tea in Japan when in was brought from China, to the way the political powers used the tea ceremony for their own agendas, it's a very interesting read.
Have you ever wondered why tea masters where so important in the history of Japan? You'll find out the extent of their influence though this book.
As a bonus, it has many illustrations that add more visual content.
I bought the ebook version from Amazon, it is quite inexpensive. If you like history and tea, you'll have a pleasant time.