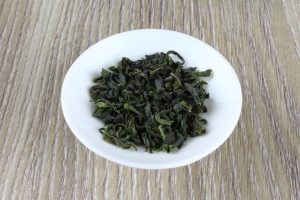 It's been years since I've tasted a kamairicha.
This type of Japanese tea is uncommon.
Thanks to Tezumi I'll review this one from Kumamoto prefecture, one of the two prefectures in Japan where this tea is traditionally produced.
As an extra feature, this tea comes from a blend of different cultivars.
I don't have much experience with kamairicha, but I'll do my best.
A Japanese tea made in the Chinese way
I can feel a mellow sweetness.
It doesn't smell so marine nor vegetal as a sencha.
The appearance is also different from the standard Japanese tea.
These tea leaves aren't straight, but curly.
While they are somewhat thick, they have a small size.
I've seen so few examples of kamairicha, that I can't tell if this one has an above average appearance or not.
Anyway, let's prepare it.
I'll use 3 grams of tea leaves, infused in 60 ml (2 oz) of water at 90°C (194°F) for 1 minute.
This type of tea isn't as delicate as a sencha, so we can use a slightly higher temperature.
Now let's concentrate on the fragrance of the wet leaves.
There's a light sweetness, and notes of legumes and boiled greens.
Again, it doesn't have a marine aroma.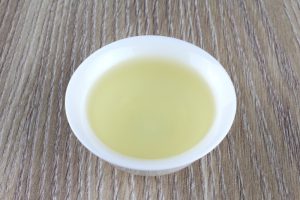 And after serving, I obtained a pale yellow liquor.
Shall we give it a try?
It has umami taste, but it is not very intense.
The overall flavor is pleasant. Not bitter at all.
This tea doesn't taste as sweet as it smells.
Interesting, nevertheless.
I'll make the second infusion with 80ºC (176ºF) for 30 seconds.
A similar taste, but with less body.
I think that this infusion is also good.
For the last infusion, I'll pour boiling water and wait for 10 seconds.
It still isn't bitter, although now it's much lighter.
While I'm no expert on Chinese green teas, I have tried many of them.
This one doesn't smell nor taste like a Chinese green tea.
So in that sense, I would say that even if it isn't steamed, there's something about it that reminds me of Japanese tea in general.
It's a good green tea in its own way.
Click here for the product page in Tezumi.