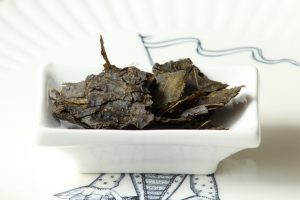 This post is a review of an Ishizuchi kurocha branded as Tengu kurocha, and produced by Satsukikai (さつき会).
This tea's story is very interesting.
It turns out that at one point there was only one producer of Ishizuchi kurocha in all of Japan: Mr. Sogabe.
A TV show was made about him, and how there was no one else that would inherit this traditional skill.
Upon hearing this sad news, a group of people from Komatsu town decided to keep the tradition alive. They learned from the producer himself, and after much trial and error finally obtained satisfactory results.
Humbly pointing out that their tea doesn't yet taste as good as the original Ishizuchi kurocha, they named theirs Tengu kurocha, referring to Tengu peak in Mount Ishizuchi.
It's not a big enterprise, the yearly production is very low. However, they have managed to distribute it at a number of places.
Tasting one of the least known Japanese dark teas
The leaves are pressed on top each other and seem unrolled. They have a heavy aroma of prune, and maybe a small touch of mint.
I remembered this prune aroma. It is present in a GABA tea that I had reviewed. Interesting, because this tea is also high in GABA as well.
The brewing guideline is as follows: 2 to 3 grams of tea and 360 ml (12 oz) of boiling water, infusing for 1 to 2 minutes.
Once brewed, the wet leaves have an earthy aroma, again with prune.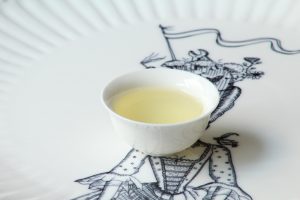 The liquor seems to be yellow with a tinge of brown, and has a slightly acidic aroma.
Until now, I can tell you that it's very different from a goishicha, even though the production process is almost the same.
However, the taste is similar to goishicha. A touch of sourness, but no bitterness.
It seems to be quite refreshing, and the aftertaste is pleasant. It's such a strange taste that one can hardly imagine that it's tea.
The sour taste comes from the lactic acid bacteria, sort of what happens in yoghurt. It's a light sourness, nothing to worry about.
I couldn't find info regarding the number of steepings, but I can tell you that it easily does more than three.
My thoughts are that as goishicha, the taste is so outside the norm that you won't have much to compare it with.
It's interesting because of its uniqueness, but I don't expect to see dark tea lovers becoming immediate fans.
According to the producers, it tastes better if drank some years after purchasing it. I will keep it and see what happens.
I'm thinking that this tea is so rare that I might not get much chances to obtain it again.