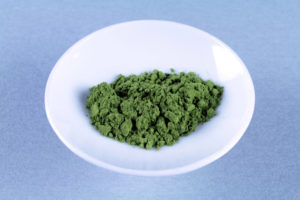 This matcha from Suisouen comes from Kagoshima prefecture and is JAS organic certified.
Many thanks to Webexpoo for giving me this tea.
Suisouen is a tea company in Azumino, Nagano prefecture. I guess that they buy the tencha in Kagoshima and then process it into matcha at their facility.
The tea comes in a resealable package. After opening it, I found this tea's aroma to be unusual.
It has an intense seaweed, and a noticeable sweetness in a different manner than other matcha. I'm not sure how to explain it properly.
While not a ceremonial grade, it seems of better quality than your average cooking grade matcha.
The green color is good for its quality as well.
Time to whisk this matcha
So far so good, but taste is the most important thing.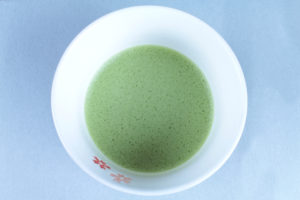 I had an easy time frothing it, the foam looks fine.
The taste is balanced, although it does have a slight bitterness. But at least it's not astringent.
Again, not a ceremonial grade matcha, but it still offers a good taste.
It's a good everyday matcha. I liked it's original aroma.