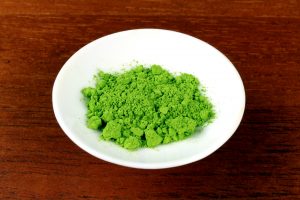 After the podcast interview with Lauren from Mizuba Tea, she sent me some samples for review.
Yorokobi is an organic ceremonial matcha made with the Okumidori and Kanayamidori cultivars.
I've never tasted such a blend, it will be an interesting tea tasting.
The joy of yorokobi matcha
The aroma of this matcha is very fresh, with a high sweetness. It also has notes of seaweed which are relatively light.
In terms of color, it has an intense green without a yellow hue. It's a desirable appearance.
I used two scoops of the chashaku (about 1.5 gr), 60 ml (2 oz) of hot water, and whisked with the chased.
By the way, once the hot water touched the tea there was a pleasant aroma of seaweed and steamed vegetables.
As you can see in the picture, it makes a froth with a good color as well.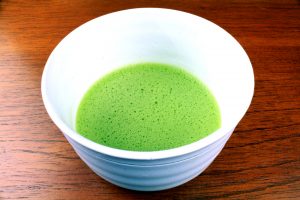 It has a smooth taste, not bitter nor astringent at all.
I can feel the sweetness, and plenty of body in this matcha. It has a creamy feeling, and a long aftertaste.
My wife also tasted it, and fell in love with it.
She probably drinks more matcha than me now, because she always drinks one in the morning. Lately I've been drinking more loose leaf green tea because I have many samples that I should finish before they expire.
Anyway, she decided that she'll be drinking this matcha every day. That means that I won't be tasting it very often 🙂
I'm very thankful for receiving this excellent matcha from Mizuba Tea.