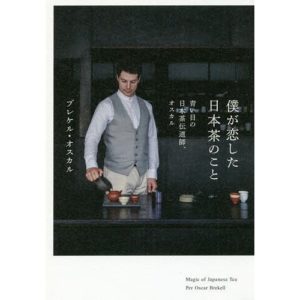 I'm a big fan of Oscar Brekell.
He is a tea celebrity in Japan, to a degree that is unheard of in the Western world.
Oscar has written three books about Japanese tea. This is his first one, which was published in 2017.
I received a physical copy as a gift from a Japanese friend.
While I could have bought it as an ebook, it is only available from Amazon in Japan.
I'm sorry to tell you that it is written in Japanese and there's no English version, but at least I want to share this review.
I had a great time reading this book, and will surely read his other two books once I'm able to get my hands on them 🙂
The title in Japanese is 僕が恋した日本茶のこと (the Japanese tea that I fell in love with). I'm not sure why the book has "magic of Japanese tea" as its English title.
In the first chapter Oscar talks about how he came in contact with Japanese tea and why he later decided to come to Japan and learn all about it.
It's in this chapter that he shares his excitement about single origin, single cultivar teas. Most of the tea in Japan is often a blend.
Chapter two is a brief introduction to Japanese tea, without being too technical. It's easy to read.
In the next chapter he goes into Japanese tea history, how the tea industry in Japan is set up, and the process of how cultivars are developed.
The fourth chapter is more practical: how to prepare Japanese tea and the utensils needed.
Finally, the fifth chapter is about the present and what could be the future for Japanese tea.
The present state of Japanese tea isn't that good because of various reasons.
But with the help of people like Oscar, I think that one day we'll be able to enjoy a great variety of high quality Japanese teas from different origins and cultivars, along with a healthy demand for them.