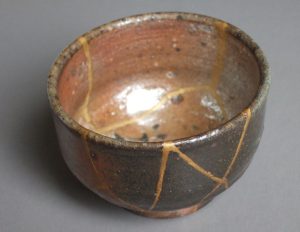 Kintsugi (金継ぎ) can be literally translated as "gold mending".
One would imagine that gold is used as the bonding agent in this technique for repairing pottery, but it's actually lacquer. The gold is for decorating purposes.
The fascinating aspect about kintsugi is that it doesn't attempt to hide the fact that the piece was damaged.
Instead, it is an art in which the result might be even more beautiful than before the piece was broken.
If you hire an expert in kintsugi to repair a teacup, and genuine gold powder is used, the repair itself can be more expensive than the teacup. Unless it was a very expensive teacup to begin with.
Philosophically, it goes hand in hand with wabi sabi: finding beauty in the incomplete and imperfect.
This concept is so popular that there are many books about applying the concept of kintsugi to one's life.
Here's a short video about kintsugi:
History of kintsugi
Evidence of damaged earthenware repaired with lacquer goes as far back as the Jōmon period (14,000 to about 1,000 BC).
During the Heian period (794 to 1185), the art of Makie (蒔絵) was developed. It consists of painting with lacquer that is sprinkled with gold or silver powder while it's still wet.
In the Muromachi period (1336 to 1573), the Japanese tea ceremony flourished. With an abundance of costly teaware, kintsugi became a valuable art form.
The kintsugi process
With the kintsugi technique one can repair cracks, chips, and even missing pieces.
The general steps of the process would be as follows:
Applying lacquer to the damaged areas and letting it dry
Applying lacquer and a powder (for example wheat flour or talc), mending, and letting it dry
Taking off excess material, applying lacquer again and letting it dry
Applying a final lacquer and sprinkling it with gold or silver powder
As you can see, each step requires drying. Because of this, the process can easily take three weeks from start to finish.
I found this kintsugi kit in Amazon. It's made in Japan, but unfortunately it's very expensive.
Traditional kintsugi with the proper materials such as the natural lacquer and real gold is 100% food-safe. This isn't the case with some modern repair methods.
But if you want a cheaper solution (not involving real gold powder) that's also food-safe, please take a look at this video.
In Japan, you can get your teaware repaired by a kintsugi artist. You might also opt for attending a kintsugi workshop and learn how to do it yourself.