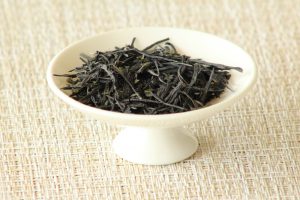 When I first read about the Sunrouge cultivar some years ago, I never expected that I would get to review it one day.
I'm very happy for receiving this sample from Kanes 🙂
It's an organic green tea. It looks like the usual sencha, but as you'll see it's very unique.
First of all, I must clarify that this tea isn't meant to be drunk straight. Usually it's mixed with other ingredients in a variety of recipes.
More than its taste, people are interested in the health benefits. I haven't looked at the research yet, but the claim is that it lowers stress and reduces eye fatigue.
Tasting a sun drop
I first thought that the tea leaves would be red or purple, but they are actually dark green.
They do seem like buds, because of their size. It looks like a good sencha.
The recommendations from Kanes in case that it will be brewed as a tea are 4 grams of tea leaves, 100 ml (3.4 oz), 70 °C (158 °F) and 20 seconds.
Apparently this tea becomes bitter easily, hence the low temperature and steeping time.
After serving the tea, the wet leaves looked very odd. They had sort of a blue tone to them, while still being very dark.
I can't really describe what the leaves smell like. It's a faint smell, and not vegetal nor sweet like other Japanese green teas.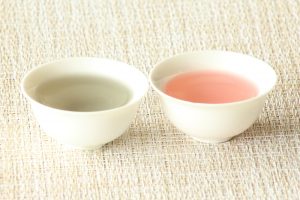 The color of the liquor is also unexpected. I will describe it as a clear grey with a touch of green.
That's not all. This tea becomes pink if you add something acidic, like a drop of lemon juice.
It was such a dramatic change!
Regarding the flavor, I tasted it both with and without lemon.
The grey tea has some astringency and light bitterness, especially in the aftertaste.
There isn't sweetness nor umami. It has no body either, very much like drinking water. The overall taste seems kind of weak.
I thought that the pink version is a little better. The sourness is enjoyable.
Then I made a second infusion, but it was much more bitter. That time is was also better with lemon.
While it doesn't have a great taste on its own, I'm thinking of using it in a cocktail for its cool color-changing effect.
Click here for the product page, in case that you're interested in Sun drop.
Among all of the green teas that I've tasted, this one is the most strange.