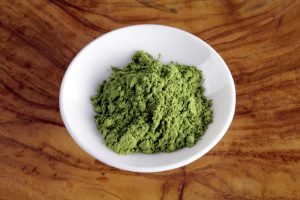 I have tasted many teas thanks to my friends at Kanes, but this is the first time that I review a matcha from them.
Their organic matcha kaze (風, wind) is an everyday matcha for both drinking and cooking.
It's made in Shizuoka prefecture.
Let the matcha tasting begin
There are 30 grams of this matcha in a resealable package.
I opened it and found an aroma that is quite sweet and fresh. It's very pleasant.
This sweetness impressed me the most.
The matcha has a good intensity of green color. So far it seems that it's above average, taking into account its price.
Time to give it a try.
As the hot water came in contact with the matcha, the result was a slightly sweet and vegetal fragrance.
There isn't much yellow hue about its liquor, which is a good sign.
I felt that it froths easily. I'm not so certain, because I believe that I've finally become better at whisking matcha after so much practice.
In its taste I detect a slight astringency and a bit of bitterness. Just what you would expect from a matcha for cooking and drinking.
There is also a good umami flavor, as well as some sweetness.
I've been drinking it with my wife at breakfast over the last days.
I consider this a good everyday matcha. It must produce great results when cooking with it.
I'm looking forward to trying a high grade matcha from Kanes next year.