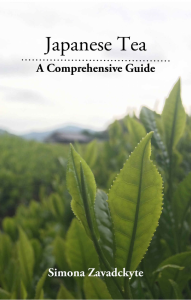 This book's author, Simona Zavadckyte, works at the international department of Obubu Tea Farms.
She has years of experience with tea in Japan because of her work, and also since she is a student of the Japanese tea ceremony.
As a Japanese tea lover, I was very happy to hear about this book.
I bought it as soon as I could so that I could write this review.
The first chapter is about Japanese tea farming.
It has interesting information, like for example the annual tea farming cycle and the differences between organic and conventional tea farming.
Next, there's a chapter about tea processing.
This part is also interesting. I liked that she included pictures for some of the machines.
After that, there are chapters about types of Japanese tea, chemical composition of tea, and Japanese tea brewing.
Then there's a section about Japanese tea history, and another one about the Japanese tea ceremony.
Finally, Simona covers the topic of Japanese teaware.
I liked this chapter, especially her description of the main pottery styles.
This book covers all the basics of Japanese tea, so it really is a comprehensive guide.
I feel that she could have added more detail in each part, however.
Nevertheless, it's a good tea book.
It will help to spread the word about Japanese tea.
You can buy the ebook or the paperback version from Amazon.