Jelly is fun. I make jelly with fruit pieces inside about once a month to eat at home, and sometimes I make jelly shots if there's a party.
I've done some desserts with green tea, but I hadn't thought about green tea jelly. The recipe would be simple so I decided to give it a try.
Ingredients
Green tea
Water
Honey
Lemon juice
Let's get started
It's the first time that I use an unflavored gelatin. The one I bought looked kind of brownish, if you can get a clear one it would be better. Use about 1 tablespoon of gelatin per cup of liquid. Experiment to see what consistency you like best.
To make one cup of green tea jelly I brewed 1 cup of loose-leaf sencha, but you can make any tea you like. You could also use tea bags, but that makes you look less professional 🙂 Make sure it's stronger than usual (use more tea or brew for longer) because the gelatin takes away some of the flavor.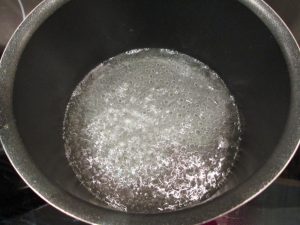 Half of the brewed tea is mixed thoroughly with the unflavored gelatin (1 tbs). Then place in a pan and bring to a boil, make sure there are no gelatin lumps.
Add honey now because honey mixes better at high temperatures. You can add sugar or any other sweetener instead, if you prefer.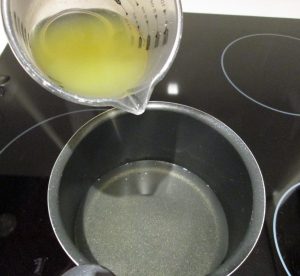 Turn off the heat as soon as all the gelatin dissolves and pour the rest of the green tea to cool down the mixture.
Add lemon juice and taste to see if it needs more flavor. Tasting it is the most important part!
How to tell if the flavor is right
The green tea flavor, sweetness and sourness should be right. Think about bottled, sweetened iced tea. It's better to have a flavor that's too strong instead of too weak when it comes to jelly. I can't tell you exactly how much honey and lemon juice I used because I kept adding little by little and I lost count!
The last part is to place your green tea jelly in the refrigerator until it becomes solid. This should take about two to three  hours.
The results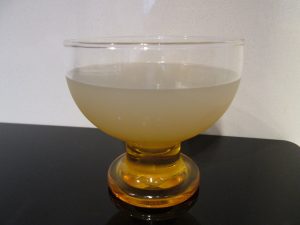 I took the best picture I could, sorry for my lousy photography skills! I'm not sure if it was because of the honey or my particular gelatin powder, but I lost some of the yellow color of the green tea.
As expected, making green tea jelly was easy to do. Without counting the cooling time in the refrigerator it takes less than 15 minutes.
If you are new to making desserts, this one is a good start. You'll probably have to try more than once to get the correct flavor, but that's part of the fun in cooking.