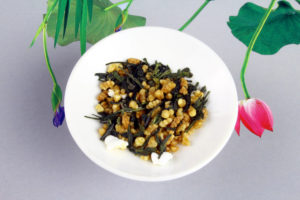 One of the teas that I make almost everyday is genmaicha.
My wife likes it very much. But she prefers that I prepare it for her.
So she was very happy that I received a sample of genmaicha from Kirishima city in Kagoshima prefecture.
I received this tea from Galerie Du Thé, an online tea store that ships worldwide.
It's been a long time since I've reviewed a genmaicha on the blog.
I'm looking forward to this tea tasting.
Reviewing an organic genmaicha
Before we get into the tea tasting itself, I just want to say that I was impressed by the packaging.
The box had a nice design, along with printed material about this tea.
Besides that, the tea came inside a good looking tea tin.
Let's see if the tea is also as luxurious.
The tea has a sweet and nutty aroma.
It has an intense smell of popcorn. It's too strong for my taste, as it overpowers the aroma of the tea leaves.
Regarding the leaves, they are a good quality sencha.
The site says that they are from the second flush.
I'll prepare it with 120 ml (4 oz) of boiling water for 30 seconds.
Now I can feel a buttery and nutty aroma. This time the roasted rice fragrance is also noticeable.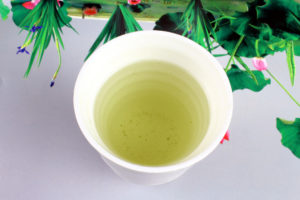 As for the color of the liquor, it is a pale green.
Let's drink it.
It has a mellow sweetness, medium body, and an aftertaste of popcorn.
I find it easy to drink.
A second infusion came out a little lighter, but it was still good.
In conclusion, it is a good quality genmaicha. I can't complain.
To obtain an even better quality, they could have used a better sencha and also a better rice, but probably the price would rise as a result.