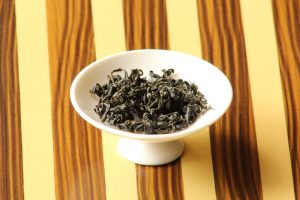 One must take care when storing green tea because it degrades easily. The fresher the better.
Imagine my surprise when Shiho from Cha Doraku asked me to review a kamairicha from 2008.
An eight year old green tea!
Here's the story behind taizo:
The tea comes from Saitama, and is made by Mr. Hiruma. Once completed, he decided to freeze this batch in 2008.
Recently, he recovered the tea and did another "firing", or what is known as hiire. I imagine that he did so to improve the tea's aroma after all this time.
Finally, Shiho brought some to Canada and now I get to review it 🙂
Tasting a vintage green tea
The first thing that stands out is that the leaves are a very dark tone of green, it's easy to confuse with a black tea.
Furthermore, their are curly and have a good overall appearance.
The second interesting thing about this tea is that it actually has a good aroma. Stale green tea is almost odorless, but this one gives off a good amount of fragrance.
It is quite sweet, more than most green teas, and perhaps a little floral too.
I used 120 ml (4 oz) of water at 90 °C (194 °F), and brewed for a minute.
The wet leaves look very nice. They are indeed young, and have a sweet and floral aroma. There's something else, but I don't have the vocabulary to describe it, perhaps lentils?
Sorry, I guess I need to further improve my tasting skills.
Since it's not a steamed tea, it doesn't have the vegetal aroma of other Japanese green teas such as sencha. Instead it has kamaka (かま香), the characteristic aroma of kamairicha.
However, I don't have much experience with kamairicha so I can't really tell if the aroma is above average or not.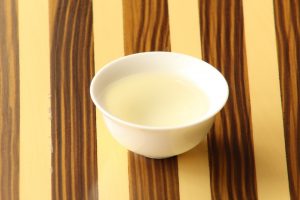 The infusion resulted in a clear yellow liquid. Let's see what it tastes like.
There is some sweetness, no detectable astringency, and definitely no bitterness. Again, it tastes like a legume.
The aftertaste is also pleasant.
It reminds me of the Chinese green tea longjing, but don't take my word for it because I haven't tried that many Chinese teas.
The second infusion also proved to be a good cup of tea. It was very similar to the first.
This proves that if you know what you're doing, you can have a good tasting green tea with a great aroma after freezing it for a long time.
Shiho doesn't sell this tea online, but if you stop by her store in Montreal you might be able to purchase it.