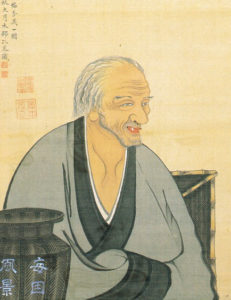 For centuries, matcha accounted for most of the tea drank in Japan.
This would change in the 18th century, in large part by the efforts of a traveling monk known as Baisao.
Baisao (売茶翁), meaning "old tea seller", was born in 1675 in what now is Saga city of Saga prefecture.
His name was Shibayama Kikusen (柴山菊泉).
At 11, he became a monk at Ryūshin Temple (龍津寺) under Kerin Dōryū (化霖道龍), a Zen master of the Ōbaku school.
Baisao received the name Gekkai (月海) as a monk.
Kerin's master was Dokutan Shōkei (独湛性瑩), who in turn was a disciple of Ingen Ryūki (隠元隆琦, Yinyuan Longqi).
Ingen was a Chinese monk that founded the Ōbaku school of Zen. He was a pioneer of loose leaf tea brewing in Japan, a custom that he brought from China.
Baisao started traveling throughout Japan from 1696 in order to further his Buddhism studies.
In 1707, he gained a deeper knowledge of sencha (which at this point was not a type of green tea, but rather a method of preparing loose leaf tea) in Nagasaki prefecture.
After that he would return to serve his master Kerin for many years.
When Baisao was 57 years old, Kerin passed away. He then decided to go to Kyoto, the capital of Japan at the time.
In 1735, when he was 61 years old, he started his tea shop: Tsūsentei (通仙亭).
It wasn't a formal store, since Baisao just carried his tea and teaware to scenic locations in Kyoto.
He had grown tired of the decadence that he saw in the religious world, and thought that it would be better to have an ascetic practice by selling tea.
In fact, he thought of tea drinking as a path to enlightenment.
Baisao didn't really sell his tea, he just accepted donations.
He had a sign that said: "The price of tea is anything from 2,000 koban to a half mon. It's okay if you want it for free, but I can't sell it for less than free".
Regardless of a person's social rank, Baisao would prepare his tea according to the sencha method and he would talk about Zen, among many things.
Preparing tea in this manner was also an act of defiance. Baisao disliked the rigidness of the tea ceremony, where the elite drank matcha.
He was a famous poet. Naturally, he knew many of the writers and artists in Kyoto.
During that period Baisao became the only person in Japan to be the subject of so many portraits made by top artists.
As Baisao grew in fame, so would the custom of drinking loose leaf green tea.
In 1742, at 68 years old, he visited Nagatani Soen, the inventor of sencha (the type of tea as we know it today).
Baisao was very satisfied with this new type of tea. He slept in Soen's house that night as they both talked about tea all day.
When he was 70, Baisao stopped being a monk. As a result he changed his name to Ko Yugai (高遊外).
He would later stop selling tea in 1755 when he was 81 years old.
Because he wanted to avoid the creation of a sencha ceremony based on his own fame, he incinerated his tea utensils.
Baisao died six years later.
Contrary to his wishes, the sencha ceremony known as senchadō took form and Baisao was considered to be the first senchadō master.
Detailed illustrations of Baisao's tea utensils were published. This led to the creation of a new teaware industry for sencha.
Even now, sencha is the most popular green tea in Japan.
Sources:
https://ja.wikipedia.org/wiki/%E5%A3%B2%E8%8C%B6%E7%BF%81