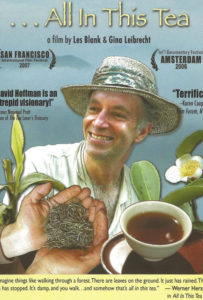 This documentary if from 2007 but I hadn't watched it until now.
It was made by Les Blank and Gina Leibrecht.
At first I thought that it was going to be about tea in general but it is about Chinese tea, explained by tea pioneer David Lee Hoffman.
This was back in the days when there wasn't much loose leaf Chinese tea available in the US, and having a direct relationship with tea farmers was very difficult.
David had to navigate the highly bureaucratic world of business in China.
Besides that, he also promoted specialty and organic tea as opposed to factory tea.
Trailer
There is plenty of good footage to be seen here, especially for people who are new to tea.
For example he visits villages, interacts with tea farmers, and sees how they process the tea by hand.
I became very thirsty after watching so much high quality green tea.
I was also glad to see the tea book author James Norwood Pratt in this documentary, he looks very young 🙂
Plus, there's a short section about tea history.
You can rent it or buy it on Vimeo. Either way it is a very low price.