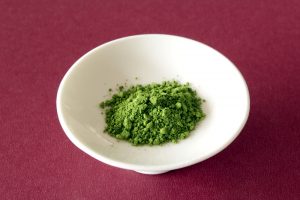 After the podcast with Luciana from 3 Leaf Tea, I received a sample of the company's ceremonial grade matcha.
It's hand picked in the Uji region, so the quality must be high.
Thank you Luciana!
Let's find out how good it is.
My first matcha from 3 Leaf Tea
What stands out the most is its sweet aroma.
It feels much sweeter that what I've experienced in general.
There are also fresh marine notes, but not as pronounced as the sweetness.
This matcha's color is an intense green. Very desirable.
I used a teaspoon of matcha, and 60 ml of water at 80 °C (175 °F).
As soon as the water was poured in the tea bowl, the wonderful aroma of matcha was released.
Lately, I've gotten into the habit of smelling the matcha right before whisking, when the mixture is at its hottest point.
It seemed to froth easily, which is very convenient.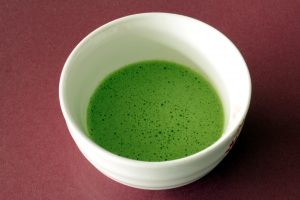 After taking a quick picture, I was ready to try it.
The flavor felt very smooth. No bitterness at all.
It has a good body and sweetness.
I was surprised by its taste. It's a high quality matcha, no doubt about it.
Drinking this matcha was the best thing that I did today. I felt very happy afterwards 🙂
Too bad that it was a very small sample.
Here's the link to the product page.
I recommend trying it, it's above the average ceremonial grade matcha.