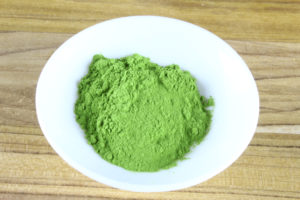 If I'm not mistaken, this is the highest grade matcha that Wakoen offers.
It's made with tea leaves from the first harvest in Kagoshima prefecture.
Since this is my last tea review of 2021, I wanted to have something special.
Let's whisk it
The aroma has a deep sweetness that reminds me of molasses.
I usually have molasses at home because my parents in law make it at their farm.
This matcha also has a fresh fragrance.
The color is a vibrant green.
So far so good.
As always, I used about 2 grams of matcha and 60 ml (2 oz) of water at 80ºC (176ºF).
After pouring the water but before whisking the mixture, I could feel a vegetal and marine aroma.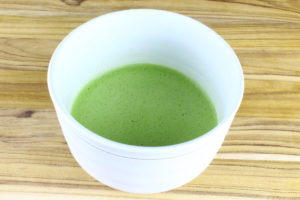 It seems to froth easily.
So now all I have to do it to actually taste it.
I'm surprised because it is very good.
Zero bitterness, and no astringency either.
Medium umami taste, I think that it has a light body.
It's very smooth, with a fresh aftertaste.
The sweetness isn't so apparent as it was in the aroma.
It's just what I needed to finish this year on a positive note.