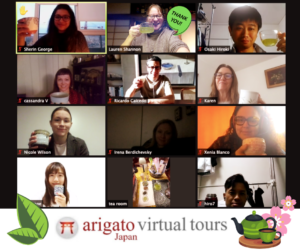 Arigato Japan Food Tours, as the name implies, is a food tour company in Japan.
Because of the pandemic, they started offering virtual food tours as well.
I was invited to a virtual tea experience. We were a small group of people and the host was Lauren Shannon.
The experience lasts for one hour and is done through Zoom.
You can bring any tea that you want, because it isn't a tea tasting. It is a talk about Japanese tea.
I had a good time, Lauren is a very warm person.
The participants also have time to share their thoughts and experiences with tea.
However, if you are a regular reader of this blog, the information offered by this experience might be too basic for you.
After looking at their website, I became interested in the many food tours that they offer.
I wished that I would have taken one of their tours while I was in Japan.