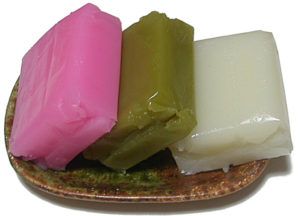 Uirō (ういろう) is a steamed cake made with flour and sugar.
This wagashi (Japanese traditional sweet) looks similar to yōkan but it has a more chewy texture.
The flour used can be rice flour, wheat flour, and bracken starch, among others.
Uirō can also be flavored, or have other ingredients as a garnish.
As you can imagine, there are many variations of this sweet.
Simple and easy uirō recipe
You can easily make this wagashi at home even if you don't have a steamer.
Ingredients:
wheat flour, 40 gr
sugar, 40 gr
water, 150 ml (5 oz)
Mix all the ingredients thoroughly in a bowl.
Pour into a microwave safe container. Preferably one with a square shape.
Heat in a 500 watt microwave oven for 5 minutes.
Let cool, and then cut into pieces.