This tea sold by Tezumi is a lightly oxidized oolong made with the Koushun cultivar.
It comes from the Honyama region of Shizuoka prefecture.
Since this cultivar's strong point is its aroma, it will be interesting to try it as an oolong.
Let the tea tasting begin
I feel a lightly sweet and fruity fragrance.
While not so intense, it is pleasant.
The leaf appearance seems like other Japanese oolongs that I've tried.
Mature leaves that are rolled in a rough manner.
Some of the leaves are more oxidized than the others.
I'll prepare it with 4 grams of tea, 120 ml (4 oz) of boiling water, for 30 seconds.
The wet leaves now have a vegetal aroma, along with floral and sweet notes.
It feels much sweeter now than when it was dry.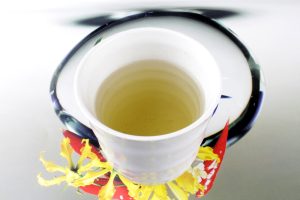 Let's try this yellow liquor.
An overall mild taste.
I find it somewhat buttery, with a floral and sweet sensation in the aftertaste.
It isn't astringent nor bitter.
This is indeed very lightly oxidized, because it tastes like a green tea.
I will infuse it again in the same manner.
This second infusion is very similar to the first one.
An enjoyable drink.
The third infusion is lighter, but worth sipping.
So why not keep infusing?
The fourth infusion is also light.
As always, the aftertaste is quite floral.
A fifth infusion felt too weak for my taste, even though this tea holds the flavor well after re-infusing.
As you might know, I'm not a fan of floral teas. So I wouldn't drink this tea often.
But in terms of Japanese oolongs, I believe that it's very good.
Most of the ones I've tried are lacking in taste and aroma.
Click here to see the product page.