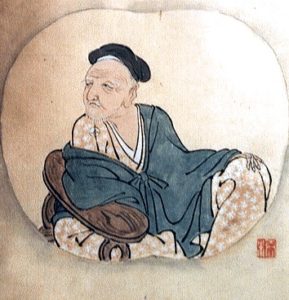 Kobori Enshū (小堀遠州) was a feudal lord and a famous tea master from the beginning of the Edo period.
He was regarded as the greatest tea master of his generation.
The Enshūryū and Kobori Enshūryū schools continue to teach his style of the Japanese tea ceremony.
The life of Kobori Enshū
He was born in 1579, at present day Nagahama city of Shiga prefecture. His name was Kobori Masakazu.
Enshū's father, Kobori Masatsugu (小堀正次) was originally a vassal of the Asai clan.
However, the Asai clan was defeated by Oda Nobunaga in 1573. So Masatsugu became a vassal of Toyotomi Hidenaga, the half brother of Toyotomi Hideyoshi.
In 1585, the Kobori family moved to Kōriyama castle in present Nara prefecture, since Toyotomi Hidenaga had been transferred to that location.
Masatsugu earned the title of county magistrate of Yamato.
In 1588, the young Enshū met the famous tea master Sen no Rikyū. But there is no evidence that they ever met again.
Toyotomi Hidenaga died in 1591. That same year Rikyū was ordered to commit ritual suicide.
Masatsugu then became a vassal of Toyotomi Hideyasu, but Hideyasu died just four years later.
This led to Masatsugu becoming a vassal of Toyotomi Hideyoshi and in 1596, moved to Rokujizō in Fushimi.
There, Enshū met Furuta Oribe, who would become his teacher of the tea ceremony.
He also studied Zen Buddhism under Shun'oku Sōsen, the abbot of Daitoku temple in Kyoto.
When Enshū was 18, he invented the dōsuimon (洞水門), a buried earthenware jar that makes a special sound when water falls into it.
It was placed below a stone wash basin. Furuta Oribe was very surprised when he heard the reverberating sound.
Enshū married the daughter of the feudal lord Tōdō Takatora in 1597.
The first written evidence of Enshū hosting a tea ceremony was in 1599.
After the battle of Sekigahara, Masatsugu was rewarded by obtaining the title of feudal lord from Tokugawa Ieyasu.
Masatsugu passed away four years later, in 1604. Enshū inherited his father's position and estate.
In 1606, Enshū was named sakuji bugyō, an official in charge of architectural and construction affairs.
It would be too extensive to list here all the castles, gardens, palaces and tea houses that Enshū was involved in either constructing or repairing. He was a master architect and garden designer.
Besides that, he was also a calligrapher and a poet.
In 1609 he received the junior fifth lower court rank and the title of Lord of Tōtōmi. This led him to be known as Kobori Enshū.
He was also governor of Kawachi in 1617, Tōtōmi in 1622, and of Fushimi in 1623.
Kobori Enshū as a tea master
As a feudal lord himself, Enshū practiced the warrior style of the tea ceremony.
He held approximately 400 formal tea gatherings in his life.
His aesthetic style is known as kirei sabi (綺麗さび), which can be translated as "elegant simplicity".
He kept the simplicity of Rikyū's wabi sabi and also the sense of incompleteness, but he added a more objective beauty.
Enshū preferred brighter colors than Rikyū and more balance than Oribe's excessively warped ceramics.
In fact, his design of tea rooms incorporated this brightness in the form of more light, as opposed to Rikyū's preference for dark and somber tea rooms.
Enshū also started to emphasize more teaware from Japan and Korea, and less Chinese antiques.
Here's an anecdote from Kobori Enshū:
One day he invited guests for a tea ceremony.
There was a sudden rain, and then the guests entered the tea room.
Oddly enough, they noticed that there was no flower arrangement, only a splash of water in the wall.
They asked Kobori Enshū about it. He replied: "After watching the beauty of the wet trees outside, I realized that no flower arrangement would be able to match it."
Enshū died in 1647. He was 68 years old.