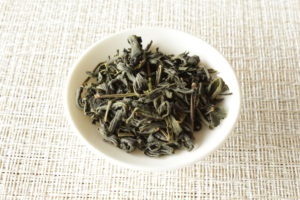 Many thanks to Ippin for giving me a sample of this interesting tea.
The brand is Kawamotoya. It's the first time that I try it.
This lightly oxidized oolong is made in Makinohara, Shizuoka prefecture.
They also produce a more oxidized version called Red oolong tea.
Japanese oolong tasting
I have little experience with Japanese oolongs, because they aren't very common.
This is a good chance to learn more about this type of tea.
The tea leaves have a slightly sweet and fruity aroma. Definitely different from a Japanese green tea.
It consists of medium sized leaves that are quite twisted.
Their color is grey-green, and there's a roughness to their texture.
Finally, there are some stems present.
I prefer the gongfu style to review oolongs, which means using a gaiwan and making short infusions of about 30 seconds.
After the first infusion, I tried to describe the aroma of the wet leaves but I just couldn't identify it.
It seemed very familiar, but also so unusual for a tea.
Then it came to me, it smells just like an eggplant! I'm pretty sure that the tea leaves smell just like it.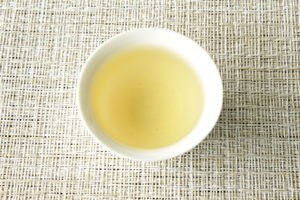 The liquor is a clear yellow. It looks good.
I tried to forget about the eggplant, and concentrated on the tea's taste.
It's a mellow flavor, with a faint sweetness. I think that it might be a bit light.
Although this tea is much different from what I'm used to drinking, it has a pleasant taste.
For the second infusion, I found that the taste improved in the sense that it was stronger.
The third infusion resulted in a yellow color, brighter than before. Taste-wise, it was similar to the second infusion.
The next two infusions were also very much alike.
It was at the sixth infusion that I decided to stop, because the flavor was much lighter.
But overall it is a good tea with no bitterness or astringency. It also offers a fresh aftertaste.
While I still prefer a Japanese green tea, this tea has such a curious aroma that I will definitely reserve a space for it in my collection to share with friends.
Here's the product link. I had a lot of fun while tasting it 🙂