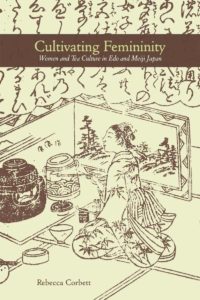 Nowadays, most of the practitioners of the Japanese tea ceremony are women.
But for a very long time it was a cultural activity dominated by men.
Through this book one can see what caused this.
The book consists of five chapters:
Chapter one gives a background on Japanese tea history.
One important thing that the author, Rebecca Corbett, explains is that there were two different spheres of practice in the Edo period: the elite and the popular.
Social status had a strong influence in what level of practice a woman was allowed to take part in.
The second chapter is the dedicated to examining a text written by Ōguchi Shōō, master of the Sekishū school: A Woman's Handbook.
This text was entirely about tea practice for women.
Note that at that time there wasn't any gender equality. Many men thought that women shouldn't even be allowed to practice the tea ceremony.
Chapter three focuses on the nineteenth century.
Women of lower social status were often employed at elite households. Hence, they had an incentive to learn the basics of tea practice.
In a transcription of A Woman's Handbook at the time, the author shows us all the changes that were made to the text according to the new status quo.
The last two chapters are about popular guides for tea practice, both old and modern.
The reasons why Japanese women want to learn the tea ceremony now are totally different than those from the past.
Here's the link to the book in Amazon.