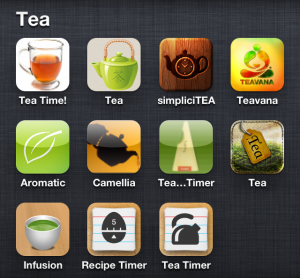 I've been wanting to use an app for my iphone, mainly to use as a timer when brewing tea.
One problem I have is that different teas require different steeping time, temperature, and quantity of tea leaves and water. It's better to let an app remember all of the details for you and then measure the brewing time too.
When I searched in the app store I found a bunch of them, but how to tell which is the right one for me?
With that question in mind I decided to download all of them (even the paid ones), so that you can benefit from my experience.
I'll review 10 apps, 4 free and 6 paid. The ranking is done on a scale from 1 to 10, with 10 being the best.
There are two important features that I find important for a tea app:
New teas can be added
The brewing time can be modified
Tea App
This is a free app, but with advertising. The main menu has 4 types of tea (black, green, white and other) and a tab for the last tea used.
There are generic teas listed for each type, although it's not that complete. The good news is that you can add extra teas in each category, where you can edit the name, brewing time, temperature (only celcius) and notes.
If you press the clock icon, the timer will start. The time can't be seen, and it can't be stopped either. You'll just be notified when the time's up.
Not bad for a free app but I want something better.
Rating: 5

Teavana Perfect Tea Touch
This free app is for Teavana's teas only. It has a timer, tea list, shop via safari, tea blender and a Teavana store locator.
The tea timer is limited in that it only works per general category. That's a deal breaker for me because all of the green teas are treated the same, and I drink different green teas 90% of the time! At least the gyokuro should have its own setting…

That being said, the timer can be adjusted (but every time it goes back to its default setting) and the other functions are kind of nice. I don't like to blend teas, but the blender feature looks fun!
If you buy Teavana teas frequently, I guess it would be a useful app.
Rating: 4
Camellia Tea Timer
This free app is really simple yet it gets the job done. It comes loaded with only 7 teas, but you can add more yourself.
You can edit the name, time and temperature (both Celsius and Farenheit).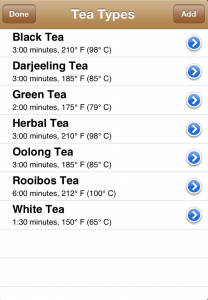 One drawback is that you can't write notes. Another small flaw is that teas aren't organized by categories.
If you are used to brewing many different kinds of teas, you'll have to scroll through the list. However, it's organized alphabetically, so you shouldn't have any problem.
This is a good app, I think most people will like it.
Best of all, it's free!
Rating: 7

Tea Forté Tea Timer
This free app is for Tea Forté teas only. It has five tea categories, a timer that you can edit (but always goes back to default setting), and cocktail recipes.
The cocktail recipes are a nice touch, and they have well taken pictures.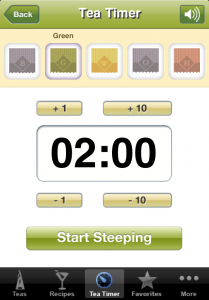 You can view each tea's reviews, and there's an option to purchase through the website.There's also information about origin and health benefits.
One thing I didn't like is that the Japanese green teas are quite limited 🙁 , it's a shame. The fact that you can't add teas also limits its usefulness.
But if you like the Tea Forté brand, you will certainly enjoy this app.
Rating: 4

SimpliciTEA Tea Timer
This paid app ($0.99) is simple and has a good design. The six types of teas each have a timer that shows an animation of the tea brewing.
You can alter the time on the timer, but you can't add any specific tea. A little too simplistic for me.
Rating: 3
Tea Time!
Not much to say about this app.
For $0.99 I would have expected more…
You can't alter the timer, and there's no way to add new teas. It's only a timer for generic types of teas.
Rating: 1
Recipe Tea Timer
This timer by Gormaya is a paid app ($1.99). Gormaya offers the Recipe Timer, which is a free app that gives instructions and has a timer for different foods. The Recipe Tea Timer has the same function, except that it has a list of teas instead.
Although it only has 7 brands of tea companies, it does have a large number of teas listed under the 7 tea sections.The green tea section has 136 teas!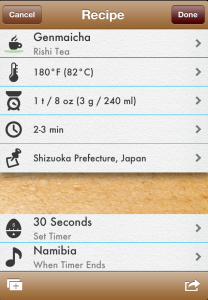 You can add your own teas, edit the name, company, temperature (both Celsius and Fahrenheit), quantity of tea, volume of water, timer, origin, and add notes.
It's kind of awkward that the notes are in the same place where you specify the origin.
Nevertheless, it's a great app, plus it has the added benefit of the free Recipe Timer app.
Rating: 9
Infusion – Tea Timer
Also priced at $1.99, this app organizes teas by either type or origin. You can add teas and edit the name, origin, temperature, quantity, timer, and notes.
One funny thing is that it brings up a description of the tea from Wikipedia.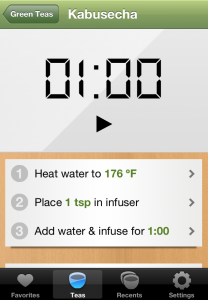 Unfortunately, I found a bug. When I try to add the origin, the app closes! Is anyone else having this problem?
I wrote a message from the itunes store,  and the company wrote back to me saying that they were going to update it. A long time has passed since then and there was no update.
Rating: 5

Aromatic
This app from In Pursuit of Tea costs $0.99 and is also organized by type and origin. When you select a region it'll show a map and a description. You can't edit the brewing time directly but you can choose the tea strength and the time will change accordingly.
Each tea has picture, tasting notes (which you can't edit), and a description.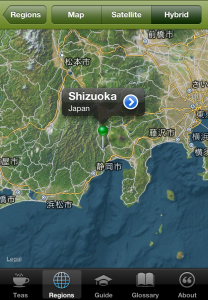 You can also share the tea you're drinking via twitter. As a bonus, there's a tea glossary too.
Like other apps from tea companies, you can only use that brand's teas and can't add your own.
Being an app from a tea company, I think that it should be free. Moreover, not being able to set the desired brewing time directly is annoying.
Rating: 3
Tea
This tea app is more expensive than the rest ($2.99), which reflects on its great functionality. Although it doesn't come with any teas listed, you can easily add your teas.
For each tea you can edit the name, type of tea, company, rating, quantity per brew, stock (quantity available, recalculates each time you brew!), brewing time, notes and temperature. And of course, it has a timer too.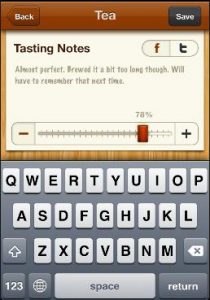 You can also share via twitter or facebook, and there's a separate scratch pad to take random tea notes. It also supports 10 languages. Mine's in Japanese 🙂
If you're looking for the best tea app, this is it.  It's very easy to use, I'm going to add all my favorite teas to the list.
Rating: 10
Update: This app has not been updated in a long time and it doesn't work properly anymore. I would advise against downloading it.
I hope that you found my reviews helpful. If you have any other tea app that you think I should include, please write to me in the comments. Thanks!
Last updated: November 7, 2012