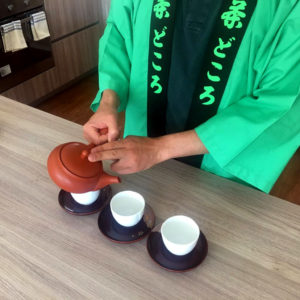 Do you live in the US? Then you can book an online Japanese tea tasting with me.
If you've been wanting to learn how to prepare a matcha or gyokuro in the correct way, this is your chance.
I partnered with Sugimoto Tea for this activity. They will send your four tea samples of 10 grams each.
Once you receive the samples (it takes less than a week), we can schedule the online tea tasting for the date and time that works best for you.
The experience lasts for an hour and a half. It's done through Zoom or Skype.
Who is it for?
It's for both novice and experienced tea lovers.
If you're a beginner in Japanese tea (or tea in general, for that matter), I'll show you the basics. On the other hand, if you are already familiar with these types of tea, we can still enjoy the teas together and have a fun time.
It's your chance to ask anything that you want to know about Japanese tea. I'm a certified Japanese tea advisor by the Nihoncha Instructor Association and have been tasting different Japanese teas for many years.
What teas are available?
You can choose three normal teas and one high end tea.
Normal teas: bancha, genmaicha, genmaicha with matcha, houjicha, kukicha, futsuumushi (normal steamed) sencha, fukamushi (deep steamed) sencha, wakoucha, daily matcha.
High end teas: gyokuro, high grade sencha, ceremonial grade matcha.
Write the teas that you want in each field below. Then click the "Buy Now" button to make your reservation via PayPal for $28, the shipping cost is already included.
Important: The experience is only for people living in the United States.